Events
Consciousness in the electrical brain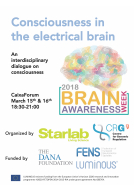 Start: 15/03/2018
End: 16/03/2018
What is consciousness after all? This question has been one of the greatest mysteries of the universe, puzzling psychologists, philosophers, neuroscientists, physicists, medical doctors, monks, and artists over centuries.
In the context of the Brain Awareness Week (BAW) 2018, the Centre for Genomic Regulation and Starlab have organized a variety of activities for the general public to reflect and explore the fascinating and still puzzling concept of consciousness. Understanding consciousness is one of the last frontiers in science and we would like to advance towards this aim sharing our passion with you.
Come and join us at CaixaForum on March 15th and 16th from 18:30 h to 21:00 h to discover the latest insights about consciousness! Learn through a wide range of activities including examples and experiments how we can move through various states of consciousness, and share your views on this amazing scientific topic:
Blitz-talk: The Ghost in the Brain. What is consciousness? How does the brain reflect our inner experience?
Luminous Lectures: "Luminous": Measuring and altering consciousness in the electrical brain. Unravelling the black box of consciousness in healthy and diseased brains. Can we measure consciousness? Can it be altered through electromagnetic brain stimulation? Luminous, a European research project coordinated by Starlab, focuses on these questions by studying, modelling, quantifying, and altering observable aspects of consciousness.
Fishbowl conversations: Join the debate with specialists from a variety of disciplines on consciousness related topics.
Consciousness Wall: Help us create a collective view of consciousness through your paintings and writings about consciousness.
Dive into the world of movies and documentaries on consciousness.
Your brain tricks you! Try consciousness experiments by using electroencephalography signals and binaural bits, as well as conscious vs. subliminal perception.
Campfire sessions: Share your experiences or point of view about different consciousness related topics in small groups.
When: 15th and 16th March 2018 from 18:30h to 21:00h
Where: CaixaForum, Av. de Francesc Ferrer i Guàrdia, 6-8, 08038 Barcelona
Organising Committee:
Mara Dierssen, Centre for Genomic Regulation
Aureli Soria-Frisch, Starlab
Eleni Kroupi, Starlab
Collaborators:
María Martínez de Lagrán, Centre for Genomic Regulation
Marcos Quevedo, Centre for Genomic Regulation, Institut Hospital del Mar d'Investigacions Mèdiques
David Ibañez, Starlab
Marta Castellano, Starlab
Isil Tekeli, Starlab
Organised by:
Centre for Genomic Regulation (CRG)
Starlab
With the support of:
Federation of European Neuroscience Societies (FENS)
Luminous (European Union Horizon 2020 research and innovation programme)