Upcoming Events
Workshop: "Studying, Measuring and Altering Consciousness"
Dates: 20-21/11/2019, Venue: University of Oxford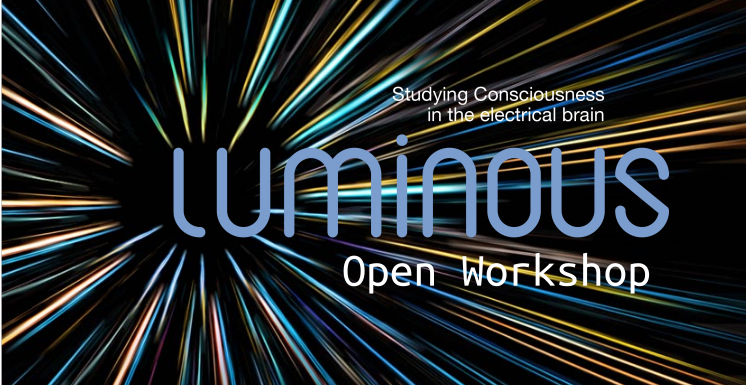 Are you a researcher in the field of consciousness measurement and alteration? Come and join us at the workshop "Studying, Measuring and Altering Consciousness"!
During these two days will take place plenty of discussions around the theory behind this field, the monitoring and alteration of consciousness levels, computational modelling of consciousness, as well as the many interesting ethical implications connected to them. Come and take with us this tour around such exciting subjects. Don't miss this unique chance for exchange of ideas and experiences with colleagues in this cutting-edge discipline.
The first day in the evening, a lecture open to the public will take place at the Natural History Museum of the University of Oxford. The next day, the bulk of the talks will take place. Confirmed speakers include: Niels Birbaumer, Michael Nitsche, Anil Seth, Katie Warnaby, Marcello Massimini, Giulio Ruffini, Hector Zenil, Aurore Thibaut, Claire Sergent, Hubert Preissl, Silvia Casarotto, Morten Kringelbach, Athena Demertzi and Julien Modolo.
Work on the final programme of the event and further details about the workshop is still in progress.
The deadline for abstract submission is October 1st, 2019. You can find more details here.
Make sure that you miss no updates and provide us with your e-mail address. We will inform you of any upcoming news. Your information will be solely used to inform you of new developments regarding this event.
To stay updated about news on this event, click here!
Past Events
ICT 2018, Vienna: Exhibition & Networking Session
Exhibition: 04-06/12/2018, Area: Creating Networks & Technology (Hall X4), Stand number: C11
In our booth you will experience how science can be transformed into technologies with positive social impact. We will show the concept of modifying perception via interactive cognitive tasks and real-time experiments from LUMINOUS. You will play in demo/games with multi-site brain stimulation, and its relation to consciousness.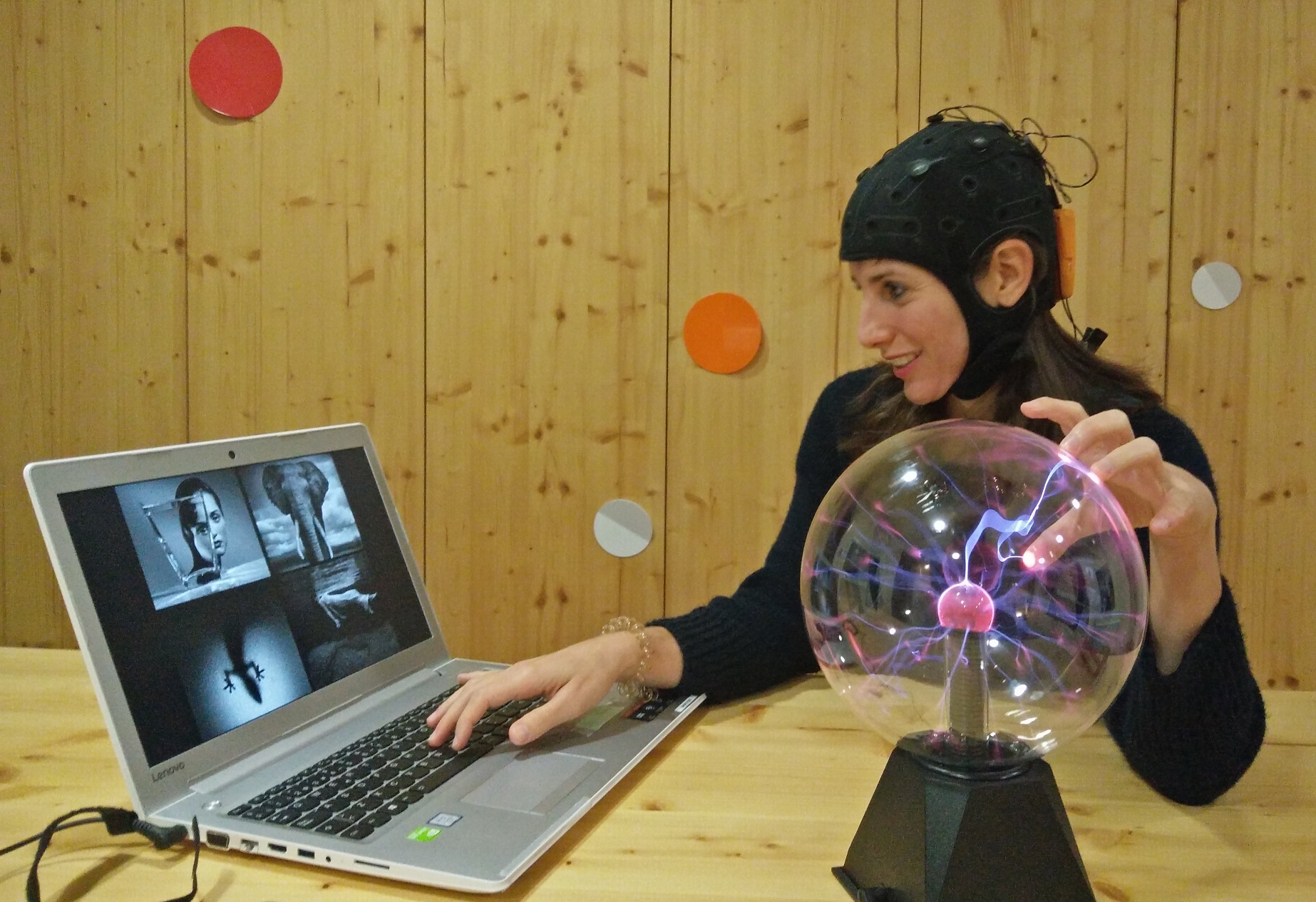 For more information, click here.
Networking session: 06/12/2018 (11:30-12:15), Room L4
AI meets Human Consciousness – Is there Machine Consciousness?
The networking session aims to provoke a cross disciplinary discussion on consciousness. Specifically, it targets to tackle the fundamental question on whether and how artificial intelligence and machine consciousness share some commonalities with human consciousness.
Briefly, our vision in LUMINOUS is that consciousness will someday be electromagnetically measured and altered, and that the associated needed insights will prove crucial to the development of cognitive sciences. Inspired by recent developments in neuroscience and the potential role of fundamental concepts we study, model, quantify, and alter observable aspects of consciousness in humans.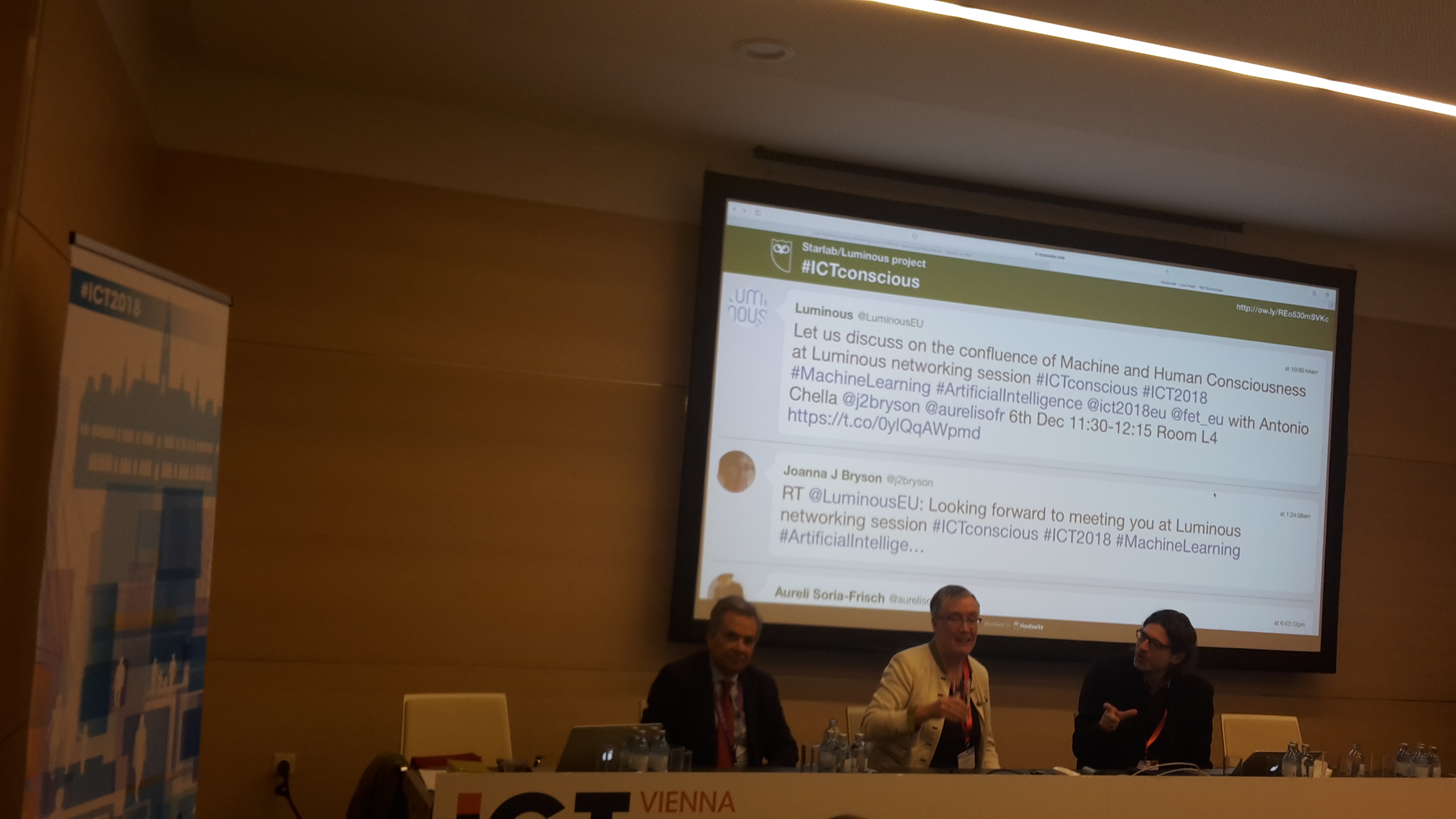 Given the relationship of these goals with the broad concepts of information and complexity we expect the achievement of these goals to affect the understanding of consciousness within other disciplines. Indeed there are plenty definitions on consciousness, which closely depend on the generating discipline. This networking session will bring those differences together, aiming to create a transdisciplinary consensus document on consciousness, the "Vienna Declaration on Artificial and Human Consciousness".
Confirmed speakers:
Prof. Joanna Bryson, University of Bath, Dept. of Computer Science
Prof. Antonio Chella, University of Palermo, Head of Robotics Lab and the Dept. of Computer Engineering
Dr. Aureli Soria-Frisch, Starlab, Director of Neuroscience Division
For more information, click here.
Consciousness in the electrical brain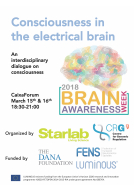 Start: 15/03/2018
End: 16/03/2018
What is consciousness after all? This question has been one of the greatest mysteries of the universe, puzzling psychologists, philosophers, neuroscientists, physicists, medical doctors, monks, and artists over centuries.
In the context of the Brain Awareness Week (BAW) 2018, the Centre for Genomic Regulation and Starlab have organized a variety of activities for the general public to reflect and explore the fascinating and still puzzling concept of consciousness. Understanding consciousness is one of the last frontiers in science and we would like to advance towards this aim sharing our passion with you.
Come and join us at CaixaForum on March 15th and 16th from 18:30 h to 21:00 h to discover the latest insights about consciousness! Learn through a wide range of activities including examples and experiments how we can move through various states of consciousness, and share your views on this amazing scientific topic:
Blitz-talk: The Ghost in the Brain. What is consciousness? How does the brain reflect our inner experience?
Luminous Lectures: "Luminous": Measuring and altering consciousness in the electrical brain. Unravelling the black box of consciousness in healthy and diseased brains. Can we measure consciousness? Can it be altered through electromagnetic brain stimulation? Luminous, a European research project coordinated by Starlab, focuses on these questions by studying, modelling, quantifying, and altering observable aspects of consciousness.
Fishbowl conversations: Join the debate with specialists from a variety of disciplines on consciousness related topics.
Consciousness Wall: Help us create a collective view of consciousness through your paintings and writings about consciousness.
Dive into the world of movies and documentaries on consciousness.
Your brain tricks you! Try consciousness experiments by using electroencephalography signals and binaural bits, as well as conscious vs. subliminal perception.
Campfire sessions: Share your experiences or point of view about different consciousness related topics in small groups.
When: 15th and 16th March 2018 from 18:30h to 21:00h
Where: CaixaForum, Av. de Francesc Ferrer i Guàrdia, 6-8, 08038 Barcelona
Organising Committee:
Mara Dierssen, Centre for Genomic Regulation
Aureli Soria-Frisch, Starlab
Eleni Kroupi, Starlab
Collaborators:
María Martínez de Lagrán, Centre for Genomic Regulation
Marcos Quevedo, Centre for Genomic Regulation, Institut Hospital del Mar d'Investigacions Mèdiques
David Ibañez, Starlab
Marta Castellano, Starlab
Isil Tekeli, Starlab
Organised by:
Centre for Genomic Regulation (CRG)
Starlab
With the support of:
Federation of European Neuroscience Societies (FENS)
Luminous (European Union Horizon 2020 research and innovation programme)